Craft-ish Episode 27: Novelist, Nora Zelevansky

A Conversation with Nora Zelevansky, Novelist & Journalist
This week Vickie talked to Brooklyn-based journalist and novelist, Nora Zelevansky. Her latest book, Will You, Wont You, Want Me is out on shelves now.
During their conversation, Nora gave usa peak into her life as a full-time writer and mom. She shared a bit of her creative process, some of the experiences that helped shape both of her novels, and the educational, life and spiritual journeys that have brought her where she is today.
This episode is sponsored by:



CRAFT*ish Listeners get FREE SHIPPING from MakersMercantile.com!
Use code: VickieMakes Offer valid (in U.S. only) until 11/16/16

Show Notes:

Nora Zelevansky is a novelist, journalist and editor. As a freelance writer, she covers style, beauty, travel, design, food, wellness, health, fitness, TV and film and burgeoning cultural trends, as well as writing profiles and humor essays. Her work has appeared in publications including ELLE, Vanity Fair, Town & Country, T Magazine (The New York Times), Travel + Leisure, The Wall Street Journal, the Los Angeles Times, Style.com, SELF, Salon.com, The Daily Beast and The Washington Post. She is also the editorial director for upscale wellness website, Live The Process.
Her debut novel SEMI-CHARMED LIFE was released on July 3rd, 2012. This first in a two-book deal with St. Martin's Press draws heavily on her childhood on Manhattan's Upper West side with art world parents, as well as her years as a lifestyle journalist, chronicling (with humor) the latest—sometimes wonky—cultural trends.
Zelevansky attended New York City's Calhoun School through high school, then Scripps College of The Claremont Colleges in California. After graduation, she moved to LA to work first in film development & acquisitions and then in politics, before transitioning into freelance writing.
She currently lives in Brooklyn, NYC with her husband and baby daughter amidst copious artisanal nooks.
Want Nora to make a virtual appearance at your next book club meeting? Send an email to semicharmedlife@gmail.com to inquire!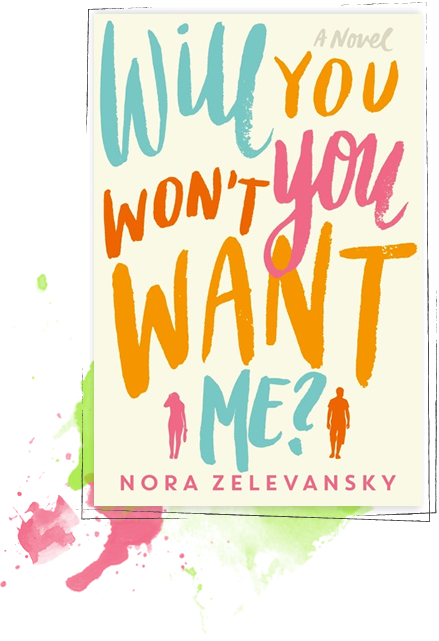 Enter to win a SIGNED copy of Nora's latest novel, "Will You Won't You Want Me?" Post a comment letting us know what you do to kick start your own creativity. Comments must be received by 10pmCT on November 16, 2016.

UPDATE: Winner is: Kathy — Congrats!
Links:
Audio Book: Will You Wont You Want Me
Mentioned in the Show
Movie: Swimming with Sharks
L.A. Weekly Article (2004)
Credits:
Produced by: Vickie Howell
Edited & Mixed by: Dave Campbell
Music Provided by: Explosions in the Sky
Like us? Leave a Rating or Review on iTunes!
6

Responses to "Craft-ish Episode 27: Novelist, Nora Zelevansky"
Joy

Amberly

kathy

Gale

Jenine Smith
Subscribe to CRAFT-ish
Apple Podcast
Stitcher
RSS
Spotify
Soundcloud
Alexa
YouTube
Get the Newsletter