It's Friday and I'm in the mood to talk shopping. Over the past few months I've come across a ton o' cool stuff, so I thought I'd finally take a quick moment to tell you about a few things I'm currently digging on. I'll give links to where you can find everything on-line so if you like something, let you're fingers do the walkin'. Support your local knitter, yo. 😉 xo, Vickie
Excluding my own of course ;-), this is probably my favorite new yarn out there. T.T.'s yarns are all glitzy, vibrant, drop-dead awesome-to-the-touch, and have a lovely drape. Ranging in price from the low $30's to the mid-$100's (for silk & crystals), this is definitely a "treat yourself" line. If like me you're on a budget, buy just one hank and make a short scarf or use it with some merino wool from your stash, to make the Hairpin Lace beanie that Jennifer H. (aka Stitch Diva) showed us on Knitty Gritty! Try it, you won't be sorry.
The other day I was at Craft-O-Rama here in Austin where (amongst SO MUCH OTHER COOL STUFF!!), I came across Crafty Alien's adorable critter kits. These are seriously squeal-worthy, people! I have a thing for owls so I'll have to buy this one, but my son Tristan has also requested the fox and I'm not sure that I'm going to be able to pass up the hedgehog…and maybe the tuxedo cat…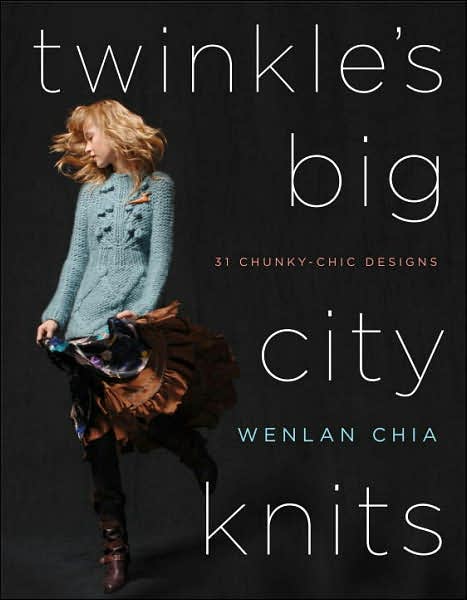 I luuuuuuuuuurve Wenlen Chia's designs, and this book! During my tour I asked store owners across the nation if they carried her yarn because I was hoping to make one of the chunky, cabled cardi's while I was traveling to places that warranted warm clothing but alas, no one had it yet (run-on sentence, much?). I know I could've used a different yarn in the same weight but since I know about the pressures of having a new yarn with your name on it, I really want to support hers. But I digress. Check out Twinkle's use of color and innovative patterns in this book. Her application of traditional stitch patterns to modern shapes and styles is fantastic. Even if you don't end up knitting any of the projects from this book, you'll still dig having it on your shelf just to flip through every once in a while!
My friend, and author of Punk Knits, Share Ross sent me a set of her killer needles that are clearly, bad to the bone. I'm currently using them to entice my son Tanner into wanting to learn how to knit. If these don't work, nothing will! 😉

Spah'kle Tee

I enjoy a good black t-shirt and this one by Knit One fits the bedazzled bill. For the less "dark-like-my-soul" inclined, it's also available in white. 🙂
Modern Yarn Tee
Jamie from ScoutSwag brought one of these to me when she was on Knitty Gritty and I've worn it to death. Mudflap-girl knitting?! Enough said. 😉
I got to see designs from Alyce Benevides and Jaqueline Miller's book for the first time on the runway at TNNA in January and then again, when they came to one of my signings in New York. Pretty in Punk makes me want to break out my needles, dust-off my 20-hole Docs and try not to be jealous that I didn't think of that title first. If I were a rock star like Dave Gahan (who currently sports one of their hats on tour), I too would be a Knit-Head!
You've heard me sing the praise of Glampyre Knit's Stefanie Japel, many o' times. Well, I'm not going to stop any time soon. She juxtaposes Victorian style with an urbanite sensibility that will surely appeal to the masses. Love her. Love her style. Love this book. Check it.
Psst!…Other than being a fan myself, I have zero connection with these products so please e-mail the companies directly with any questions. Thanks!